FIRST ALERT: Severe Thunderstorm Warning now active across Mid-South
Updated: Jun. 5, 2020 at 9:39 AM CDT
MEMPHIS, Tenn. (WMC) - 11 a.m. UPDATE: The National Weather Service has issued a Severe Thunderstorm Warning for the entire WMC Action News 5 Coverage area until 6 p.m.
Some areas include Shelby County along with DeSoto, Marshall, Tunica and Benton counties in Mississippi and Crittenden County in Arkansas.
The First Alert Weather team is tracking a complex system of showers and storms north of the Mid-South that is expected to roll into the region this afternoon and evening and provide strong to severe storms across parts of the area.
The Storm Prediction Center has placed a large swath of the Mid-South under a Slight (2 out of 5) risk for storms, this risk includes Memphis and Shelby County, along with all of Metro Memphis.
The area along the Tennessee River Valley is under a Marginal (1 out of 5) risk for a stronger storm or two this afternoon and evening.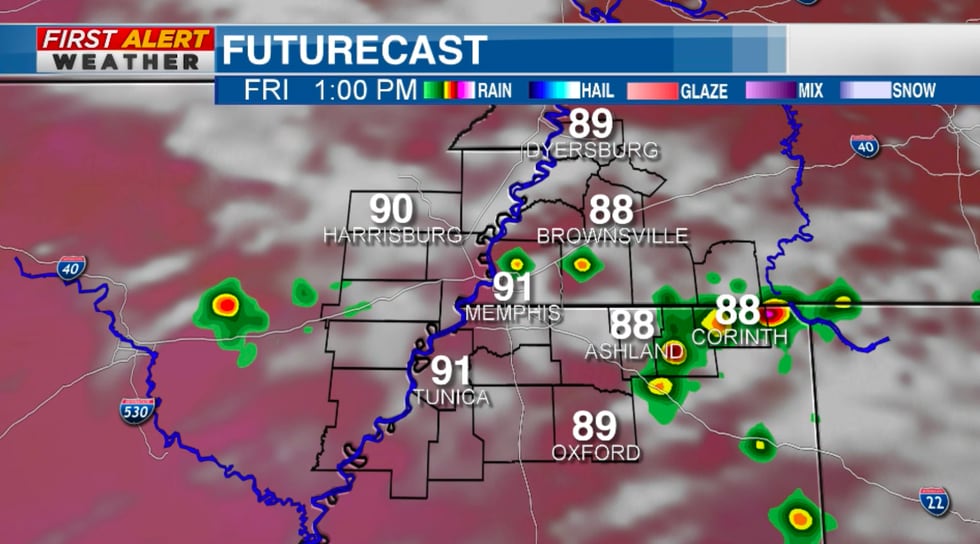 Looking at the latest First Alert Futurecast, the heat and humidity will really ramp up later today. By this afternoon, isolated showers and storms will start to form, around 1 p.m.
We will continue with a few showers and storms through the afternoon and then by 8 p.m. tonight we will start to see more widespread showers and storms. Some storms could pack a punch when they roll across the region.
The showers and storms will work their way across the Mid-South through the night. First Alert Futurecast at 10 p.m. shows more showers and storms, mainly for locations along and south of Interstate 40.
The stormy activity looks to move out overnight tonight and a calmer start to the day is expected for Saturday, with only a few showers possible in the afternoon and evening, due in part to the heat and humidity.
The main threats with any storm we see for Friday will be gusty winds and heavy rains. We will also see the possibility for some hail in a storm or two. The tornado threat is very low, but not zero.
Once this severe weather threat exits the region, we are looking at a hot and humid weekend across the region. Get ready for highs in the 90s with a mix of sun and clouds.
Remember to download the free WMC Action News 5 First Alert Weather App for your smartphone or tablet, so you can get the latest watches, warnings and First Alert Doppler 5 right in the palm of your hand.
Copyright 2020 WMC. All rights reserved.