TDH: more than 2,000 new cases, 78 new virus-related deaths
Updated: Oct. 30, 2020 at 10:39 AM CDT
SHELBY CO., Tenn. (WMC) - The Tennessee Department of Health reports an increase of more than 2,000 new COVID-19 cases and 78 additional virus-related deaths in a 24-hour period.
TDH identified 2,608 new coronavirus cases bringing the state's total to 259,488 since the first case was identified in March.
With the addition of 78 new deaths, 3,341 Tennesseans have now died from coronavirus.
There have been more than 2,000 recoveries throughout the state, resulting in a total of 229,669 recoveries.
Nearly 1,400 people are currently in the hospital and more than 3 million COVID-19 tests have been administered across the Volunteer State.
The Shelby County Health Department has identified 288 new coronavirus cases and one more death countywide. Since the beginning of the pandemic, 37,480 coronavirus cases and 571 deaths have been identified in Shelby County.
There are currently 2,887 active coronavirus cases in Shelby County.
The county's weekly positivity rate has increased each week over the last month. Most recent data available from the Shelby County Health Department shows a weekly positivity rate of 8.7 percent.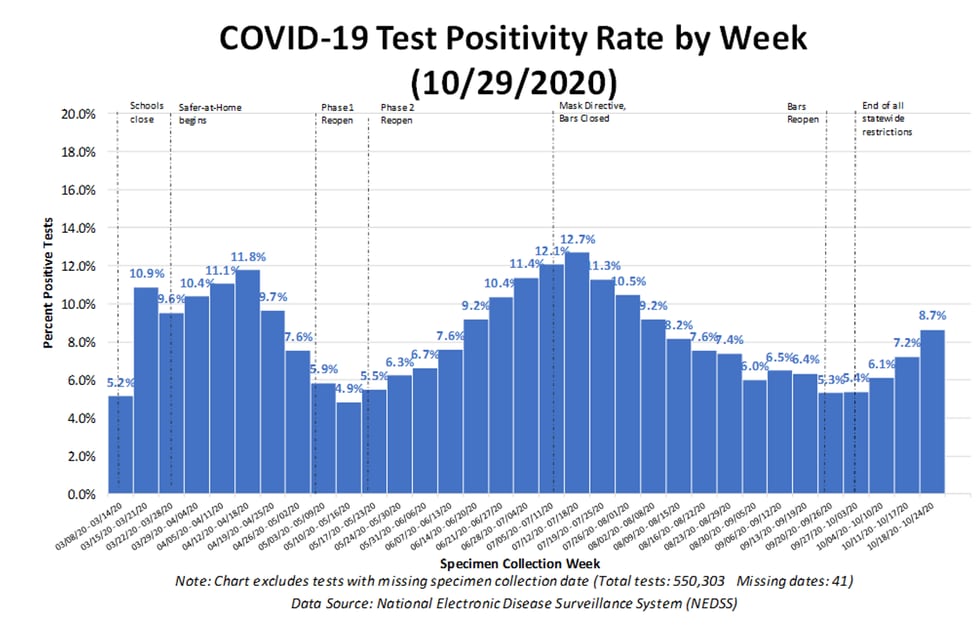 On Monday, Shelby County Health Department Director Dr. Alisa Haushalter told the County Commission over the last few weeks we've averaged about 220-300 new COVID-19 cases a day. From Sunday to Monday that number was 404.
Dr. Steve Threlkeld, an infectious disease specialist at Baptist Memorial Hospital-Memphis, said hospitalizations aren't the highest of the pandemic, but they are surging.
There are ongoing COVID-19 clusters at 18 long-term care facilities, many of which have experienced previous clusters. Hundreds of residents and staff members have contracted the virus since the pandemic arrived in the Mid-South.
Eighty-eight percent of the Mid-South's regional acute care hospital capacity is currently utilized and 90 percent of ICU capacity is utilized.
Increases in hospitalization have prompted warnings from Mid-South health officials.
Copyright 2020 WMC. All rights reserved.